Multi-award winning singer, songwriter- storyteller Amy Lowe, has captivated audiences from concert halls and festivals to schools and libraries throughout the world. She is a prolific songwriter with an extensive recording career as well as, the recipient of numerous Parent's Choice and Association of Educational Press Distinguished Achievement Awards. Additionally, her recordings have been recommended by:Booklist, Library and School Library Journal. A Sampling of her credits include:CD & CD/Rom releases entitled: I Like Gum, Fire in Boomtown , Brighter Than Fire Flies , Children In the Spirit, Precious Gifts, Made For Each Other , When I Grow Up,; Math Music- 1- Sing Lowe Score High, Math Music 2-Understanding Math Through Music; Movin In Building a Town-The story of Naperville ; Performances include: Millennium Park; Second City, The Taste of Chicago; The Chicago History Museum, The Winnipeg Folk Festival- Canada; The City of Las Vegas- Music Festivals- Las Vegas-Nevada; Arizona Theater Works- Flagstaff , Maricopa County -College Tour- Arizona ; a Concert Tour of Ecuador; Who's Next- Paris, France.
Her songs have been heard on -The American Experience- City of the Century, the PBS special, WGN-TV & Radio, WLUP-FM- the Kevin Mathew's Show-live, WXRT-FM-the Terri Hemmert Show and WBEZ-FM- Morning Edition. She has appeared on television: NBC-WMAQ-The Morning Show, WTTW- Art Beat and Fox-32-Kozone. She received rave reviews for her original show The Journey of Estevanico: America's First Black Explorer (formerly-Voices of Arizona / A Story Rarely Told). Voices was commissioned by, Arizona Theater Works, Flagstaff. These days,Amy performs and tours a variety of original shows throughout the country, including her production of All Aboard, commissioned by the Chicago Historical Society. Naper Settlement Museum in Naperville Illinois, also, commissioned Amy to research, write & record original songs & narrative for an innovative Musical Museum Audio Tour along with an accompanying CD entitled-MOVIN IN BUILDING A TOWN- The Story of Naperville , and a performance and workshop series. Her 2005 release of Brighter Than Fire Flies features a unique blend of contemporary styles and won her The Parents Choice Silver Award. Amy holds a Bachelors of Arts, in Theater/ Music, a Masters Degree in Interdisciplinary Arts. She has written critically acclaimed music for the theater, including-FIRE IN BOOMTOWN, winner of the Educational Press Distinguished Achievement Award & the Parent's Choice Gold Award; She has created several successful educational & historical touring shows. Her Math Music 1 project recently won her the 2005 Educational Press Distinguished Achievement Award. She has composed music for a Christmas album with universal themes in a wide range of styles and has written, recorded and performed Americana Roots, Adult Contemporary, Folk and Popular Music. She also co-created and performed in one of the longest running comedy reviews for young audiences.
The children's comedy review was called FUNSTUFF.
Nancy Maes of the Chicago Tribune dubbed. " FUNSTUFF... Saturday Afternoon Live."
In the field of arts in education Amy's work is quite extensive. Since 1984, she's been a Teaching Artist for several arts organizations including: The Illinois Arts Council, Urban Gateways-Arts For Learning and Heartland Arts Fund-Mid America Arts Alliance. She's designed programs that integrate the arts into the curriculum and has appeared in over 1000 elementary schools, high schools, community centers and universities throughout the country as a touring performer, workshops facilitator, residency and teaching artist.
Lowe continues to pursue new directions and if the past is any indication of the future then it's bound quite an adventure.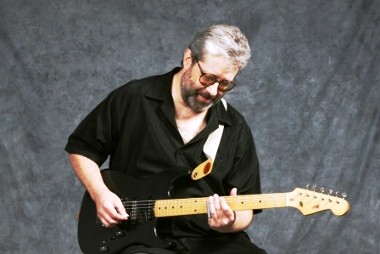 Dave, first heard live Blues as a young child in the mid -sixties on Chicago's famous Maxwell Street. From that moment on music has been his life force. Since then he has traveled on an exciting journey through the music business as a musician, sound engineer or road manager with such Blues luminaries as: Buddy Guy, Luther Allison, Albert Collins, Otis Rush, Albert King, BB King, Ko Ko Taylor, Dr. John, Eddy Clearwater, James Brown, James Cotton , Sunnyland Slim and the list goes on.
In the record industry Dave has worked with Delmark Records, Alligator Records, Island Records, Virgin-Pointblank and Warner Brothers. He has also worked on a variety of films including the original Blues Brothers movie. Currently, he's in studios as a producer, engineer and musician. His production of-Brighter Than Fire Flies –Amy Lowe won the Parents Choice Silver Award & Snug In a Rug Stories-Denise Berry Hanna won the honor of The 2001 Parents Choice Silver Award. Also last year Dave produced and mixed a traditional Blues C.D. SNAPSHOTS by Jim Greene. The collaboration was very rewarding because Jim and Dave were able to enlist the help of Chicago Blues royalty , Willie Big Eyes Smith . Bob Stroger , and Willie Kent . These three gentlemen are living legends in the Chicago Blues scene.
Dave's in-depth studies are rich in variety. He's an accomplished guitar player and blues historian. His love of the Chicago Blues has been his daily bread. He is the Production Manager and Head of Marketing & Promotions at Buddy Guy's Legends. As the President of Straight Arrow Productions, Dave is actively involved in every aspect of Chicago Blues scene. He has worked as Production Manager for BookingEntertainment.Com / Legends of The Blues, Lincoln Center N.Y.C.and as a consultant for the EXPERIENCE MUSIC PROJECT , Seattle, WA. on their Chicago Blues exhibit. Currently, he is working on several projects for Delmark Records. His credits include the remix of Jimmy Burns C.D. "Up from the Delta " and the mixing of Johnny B. Moore's C.D. Both have been nominated for the W. C. Handy Award..The production of- Movin In Building a Town/The Story of Naperville, with multi-award- winning singer/songwriter, Amy Lowe.
In addition, he's teamed up with Amy Lowe to present a variety of workshops and live touring performances including: The Journey of Estevanico: America's First Black Explorer. He hopes to bring this important historical show about Estevanico the pioneer to a wider audience. In his Blues History workshops, Dave teaches the arduous journey of the Black American from the Ivory Coast of Africa, to the Delta Southlands of America, up the Mississippi to the streets of Chicago documented through the music called the Blues. Just as his life long passion for music began on Maxwell Street he hopes to ignite the same feeling in the youth of today.
Kevin Patrick Percussionist / Composer/ Arranger Chicago Magazine -Jazz Editor and childhood friend, Mark Ruffin say's.. "Even as a kid... before high school....he was in the upper echelon of musicians. Kevin had a reputation among musicians as being able to play any instrument well.
Kevin owes his versatility as a musician to his early influences as a teenage hanging out with the older musicians making a living in the club's. Carl Davis ,Chi Sound Record owner and producer, noticed young Kevin's talent and brought him into the stable of first call musicians for Chi Sound Records.
After high school Kevin left Chi-Sound and headed to L.A. where he hooked up with Willie James. Willie was a seminal figure in the West Coast Distribution scene and taught Kevin about the music business. A few years later, Kevin returned to Chicago to teem up with his old buddy, Mark Ruffin.. They began writing and playing together in the Midwestern Reggae scene. Soon Kevin found himself as first call percussionist playing with numerous groups. For a short time he even managed the Kansas City reggae band New Riddim.
Since then Kevin's has emerged as a force in the Chicago Jazz Scene as well.. Currently, he plays and records with Pianist- Vince Willis, Chris Forman, the legendary guitarist George Freeman. He can also be heard at Chicago's night spot the Underground Wonder Bar with the Jazz/Reggae band Oversoul, Violinist/Vocalist- Heather Horton and the Joe Thomas Band. Recently he performed with the legendary Stevie Wonder.
He enjoys being one of Chicago's first call percussionists. Not only is he adept with all the toys in the percussion family but, he is also comfortable performing his original songs on guitar and piano and plans to release a solo CD this year. Recently, he joined Guitarist-Producer-Arranger- Dave Katzman and Award winning , Singer/ Songwriter -Storyteller-Amy Lowe, to tour and record a variety of shows including: The Amy Lowe Trio.
He's excited about his new ventures and has no intention of slowing down and you can be sure Kevin Patrick will be right on time.